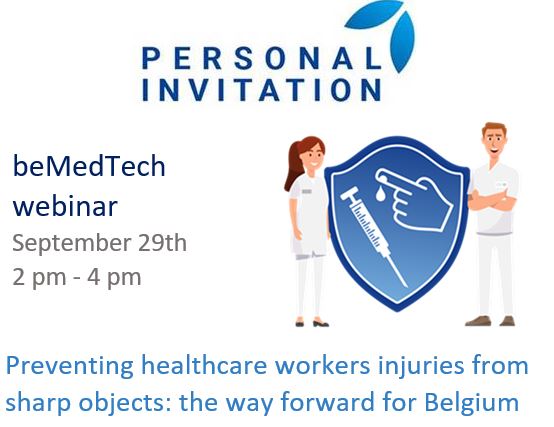 Preventing healthcare workers injuries from sharp objects: the way forward for Belgium
beMedTech, the Belgian federation of the medical technology industry, organized a survey on sharp object injuries among more than 950 nurses and lab technicians.
During this webinar, we will share the results of this survey.
We will also present the actual state of play in Europe regarding the implementation of the sharp injuries directive and subsequently shed a light on the psychosocial impact of a sharp object incident on healthcare workers.
Next, we look at a case study from the Netherlands illustrating the switch from conventional equipment to safety equipment.
Finally, we kick-off an awareness program with clear recommendations for the prevention of needlestick and cut accidents in Belgium.
Program:
Welcome
Marnix Denys, Managing Director beMedTech
Opening of the webinar
Dr. Maggie De Block, minister of Social Affairs and Public Health
Survey assessment on the implementation of the Sharps Injuries Directive 2010/32/EU & problems & action needed
Mrs. Simone Mohrs, Policy Officer at European Hospital and Healthcare Employers' Association (HOSPEEM) & Mr. Luca Scarpiello, Policy Staff Health and Social Services at European Federation of Public Service Unions (EPSU)
Results of a survey amongst nursing personnel and medical lab technicians
Prof. dr. Jef Hendrickx of the Research group Mathematics, Education, Econometrics and Statistics (MEES) at KU Leuven
The psychosocial impact of a needle stick incident
Dr. Hilde Vanacker, Prevention Advisor & Occupational Physician at Group IDEWE
The switch from conventional to safety equipment: case study Erasmus MC hospital
Mrs. Zita Kolder, Occupational Hygienist at Erasmus MC in Rotterdam, The Netherlands
Conclusions and recommendations
Mrs. Nawal Farih, member of the Belgian Chamber of Representatives and Vice President of the Commission Public Health
Closing
Marnix Denys
We gladly invite you for this webinar on Tuesday September 29th from 2 pm to 4 pm.
Please register by sending an e-mail to l.pauwels@bemedtech.be.
We look forward to welcoming you during this webinar.
Kind regards,
The beMedTech team
beMedTech vzw/asbl
Romeinsesteenweg 468
1853 Strombeek-Bever
T: +32 2 257 05 90